The College of Law - Masters of Legal Business Digital Experience Uplift​​​​​​​
Reinvigorating the digital experience for the College of Law - Master of Legal Business Program to drive student enrolment in single subject and Masters degrees.
Leading the creation of UX strategy, research and insights over the project cycle. Following key insights through to design and collaborating with development partners for implementation.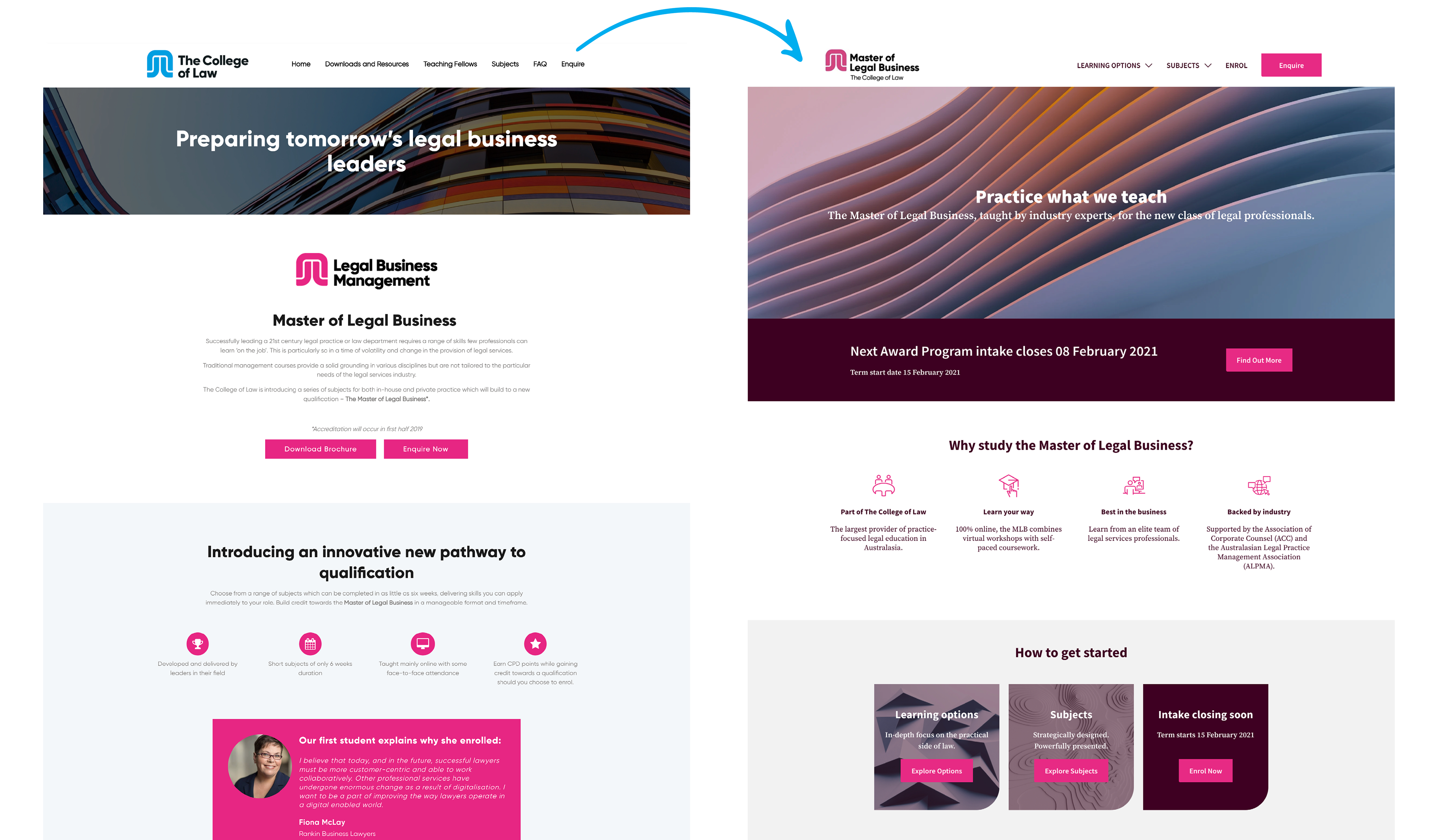 After the launch of the Masters of Legal Business program in 2017, the College of Law Australia had seen excellent engagement with their downloads and content marketing. However enrolments in single subjects and masters courses were under performing.
The goal of this project was to increase enrolment in the Masters Program - both single subjects and courses, driven through a deeper understanding of student wants and needs.
The initial outcome pointed to a visual and information architecture overhaul of the existing site. With a modular website approach that could grow alongside the program and give the brand much needed consistency and the gravitas it afforded.

The legal education space is an extremely competitive marketplace. With many new players offering short courses, or cheaper digital only products. Making it difficult for the College to stand out and communicate their history and quality. The key brand concern overhanging this project was credibility. 
Building from the strong foundation that the College has already established. We focused our problem space on a revised Information Architecture and improved user experience. With special attention to critical/decision making content and self service call back functionality to fit into our attention-poor customers lifestyle.
With a limited ability to conduct new research activities we were able carefully leverage existing assets to gain fresh insights. Diving headfirst into Google Analytics allowed us to observe myriad new behaviour patterns about our customers. 
• Rebuild the Information Architecture of the site based on its most valuable pages 
• Refreshed the content hierarchy to rapidly deliver on our most visited and search for assets.

Ideate and Design
Ideation revealed that a modular approach to page builds was the most efficient and effective approach. Understanding that the Masters of Legal Business Program was only set to grow, I wanted to deliver a solution that future proofed the build for the coming years and also work hand in hand with the lead-generation needs of the site.
A series of design principles were developed to ensure that the project could remain consistent through its growth and keep any new programs, or developments inline with what was being established.
Design Principles
Data informed design
– No design for designs sake. We will leverage insights from our research to ensure our pages work hard with user needs front of mind.
Consistency
– A tight set of page templates will ensure that content is displayed in a consistent way making it easy for users to navigate to the information they need (Considerations should be made for cross-device browsing).
Shareable Content
– From our subject pages to our industry thought pieces, our content is engaging enough to share with peers and colleagues to continuously build credibility.
Findability (every page is 'home')
– Our users will come directly to any page of our site. Success looks like users finding all the information they need from any entry point.
Balance – While lead gen is our goal, users need to feel informed and confident to enter the sales funnel. An artful balance of conversion pushes vs. information is critical.
Wireframing
Initial wireframes and user flows were rapidly developed to get to the first round of user testing. A simple prototype was taken into a small round of testing to validate our approach. After some hierarchy and functional amendments to the wireframes, we were ready to move into design.
Design of the Masters site needed to link back to our key brand concern -
credibility
. By uplifting the College of Law brand, modernising brand photography, fonts and colour palette the refresh brand tested higher for maturity, professionalism and perceived value with our users.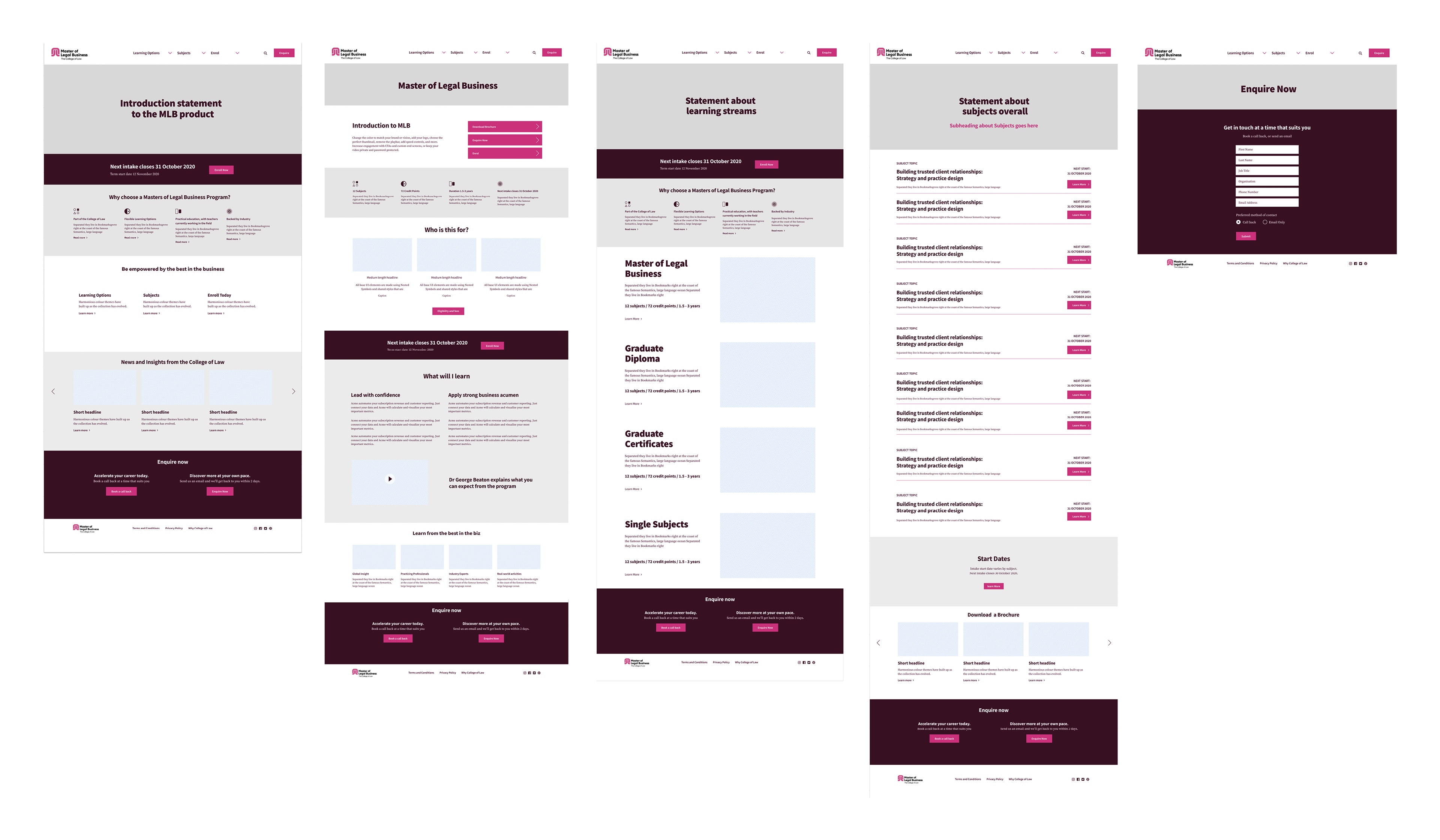 Delivery of this project saw a coordinated approach working with implementation supply partners with oversight through regular Design and UX check ins.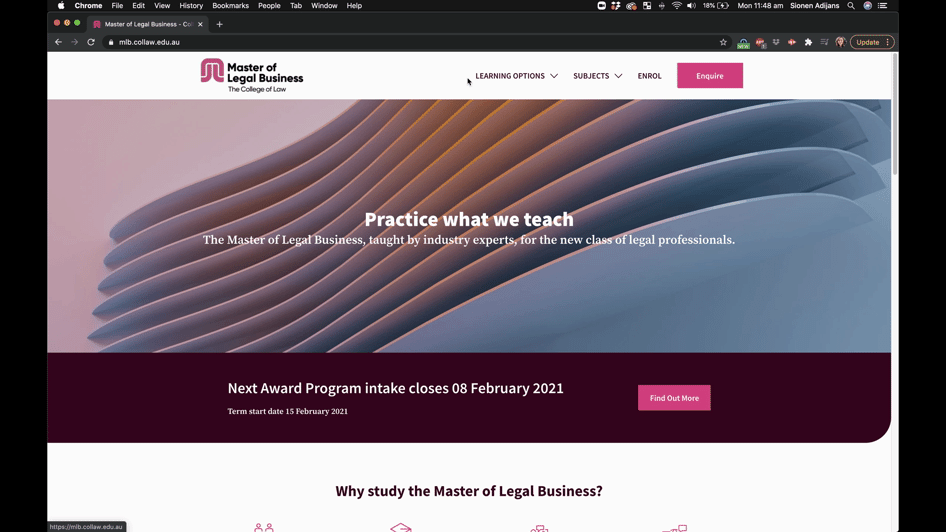 Reflection
While the site has only just relaunched in the Spring of 2020. It is already seeing positive results attributed to the revised UX and UI of the site.

The rebuild has helped College employees sharpen the information they are giving to potential students, and serve them the right resource at the right moment in their research journey. Delivering credibility and consistency at every user interaction.